CONNECTING SME .
NURTURING ENTREPRENEURS .
ADVANCING THE NATION
TMEF360 - The Platform Games for SMEs
TMEF360 is one of a kind and the first of its kind platform that gives SMEs who are game the chance to showcase what they've got. SMEs who partake in the TMEF360 challenge will get up on stage in front of their peers for their 6-minutes of fame and a chance to tell the world – or their fellow business peers in this case – what their innovative business is all about.
This platform is an exclusive and unique opportunity for SMEs to present their companies, forge possible partnership opportunities with likeminded business individuals, or gaining an opportunity to receive financial investments from potential business investors.
How TMEF360 works?
It's simple.
The TMEF360 is a rare, not to be missed opportunity for the SME businesses to shine and most importantly, make their mark in the market. For those SMEs who have been struggling for the moment in the spotlight for some time, this is the platform for them!
6 minutes is all SMEs get to shine the light on their businesses, making those 6 minutes count by going all out and putting on the best show SMEs can that will leave audiences with something to remember their businesses by.
Registration is simple, simply fill up the TMEF360 form with company details, including company name and registration number, and tap into the creative juices by telling us in 100 words a little snapshot about your business and what your brand stands for. You would also be required to submit a copy of the SSM Company Registration Certificate for the participation in this session for reference purposes.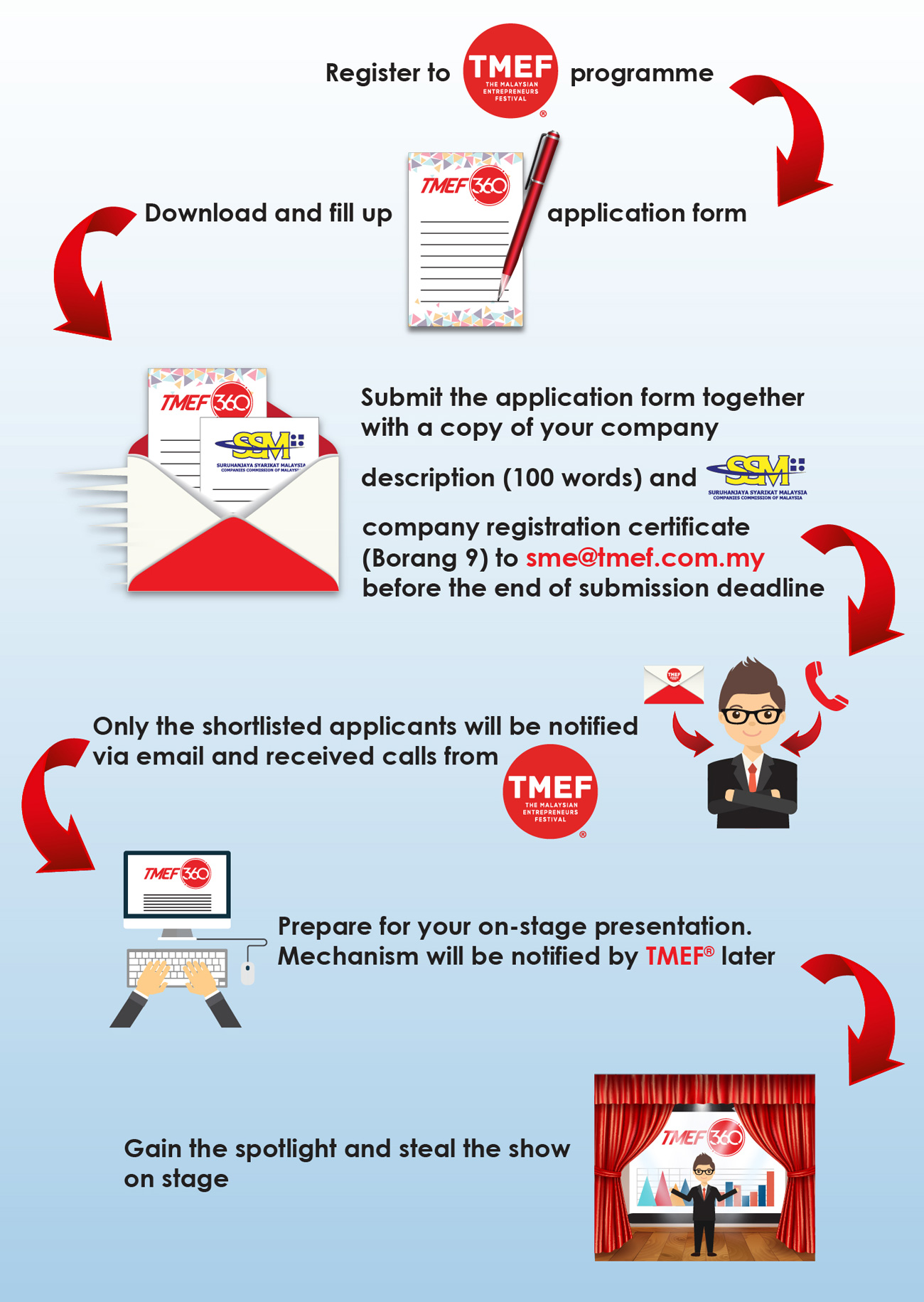 SMEs, are you ready to seize your moment to shine?
What our past TMEF360 contestants said?
"We thank TMEF® for the rare opportunity given for SMEs like us to shine on stage and get to give our product a shortcut of awareness to other participants on stage"
"It was great attending such event like this, I would like to thank TMEF® for creating such event for the SMEs especially for the 6 minutes opportunity on stage, I received a lot of interested business owners after my TMEF360 presentation"
"It was such a brief yet golden time for me presenting our business to the fellow entrepreneurs, we thank TMEF® and absolutely will grab the opportunity again to participate in the next TMEF360 platform"
"TMEF®, thank you for the passion and invitation to this insightful session. Definitely will participate again."
Previously on TMEF360