Advertisement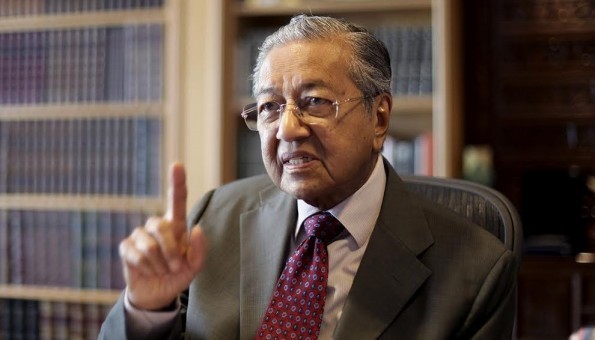 Image credit: roketkini.com
LANGKAWI: Prime Minister Tun Dr Mahathir Mohamad has urged Malay entrepreneurs to broaden their horizon and not be content with meeting only the demands of the local market.
He said Malay entrepreneurs with good products should capitalise on their uniqueness and explore bigger opportunities.
He cited the example of Thai restaurants, which were available worldwide.
"Look at the Thai restaurants, they are everywhere. Malays are good cooks too. Malays can make delicious food. But why can't we be like the Thais?
"Their food is everywhere. But Malays are happy with that small scale," he said.
Dr Mahathir said Malay entrepreneurs should also explore the possibility of the franchise model for their businesses.
He said McDonald's, for example, began as a small restaurant before growing into the global fast food giant it is today.
"McDonald's was just a small restaurant. Someone came along and found out the delicious food they were making, so he expanded and turned it into a franchise.
"Malays should expand their businesses and turn them into a franchise model. Malays can make good products so they need to think big."
The prime minister was speaking at the opening of local clothing and textile brand Jakel's store here, its 22nd in the country.
He paid tribute to Jakel's management, and singled out the achievements of its managing director, Datuk Mohamed Faroz Mohamed Jakel.
"He (Faroz) works very hard. If we work hard, we will achieve this level of success. This is not just about talking but it is about delivering.
"I am happy that a Bumiputera business like Jakel can achieve this level of success and yet, remain humble.
"They started their journey 35 years ago and have achieved so much success on their own hard work. I want more companies to emulate their success."
Faroz, in thanking Dr Mahathir, said he was keen on proving that there were good Bumiputera businesses.
"My father, Mohamed Jakel Ahmad, is my role model. He started Jakel in 1983 as a small retail business in Muar, Johor.
"He taught us to be good to our suppliers, make sure you pay on time and deliver.
"He taught us to take care of our customers, to be nice to them and treat them well. My father taught us the discipline needed to be successful," he said.
Jakel has more than 6,000 workers nationwide. Faroz said the company was looking to expand its business in Sarawak and Penang.
Source: https://www.nst.com.my/news/nation/2019/12/546073/dr-m-malay-entrepreneurs-think-big