Advertisement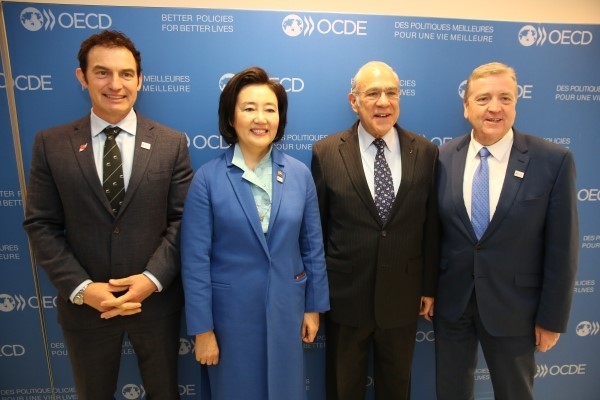 Park Young-sun, Minister of SMEs and Startups Korea, has set the stage for leading policies on small- and medium-sized enterprises at the meeting of the Organization for Economic Cooperation and Development(OECD).
The OECD SME Ministerial Conference in Paris, France, held a meeting on Nov. 29 to bolster inclusive growth through the productivity and entrepreneurship of small- and medium-sized enterprises. At the meeting, Minister Park presided over a roundtable meeting of "Digital for SMEs Initiative (D4SME)."
The meeting brought together over 50 representatives from governments, businesses, private sectors, associations, SMEs, incubators, and international organizations to discuss the most relevant opportunities and challenges to the digitalization of SMEs.
The roundtable meeting was the first of the newly launched "D4SME Initiative" to highlight the digitalization of small- and medium-sized enterprises, which were not covered in detail by existing OECD digital-related projects such as the 'Going Digital Project'.
Minister Park co-chaired this event with New Zealand's Minister of SMEs, Stuart Nash, and Pat Breen, Minister for Trade, Employment, Business, EU Digital Single Market and Data Protection, Ireland. The opening ceremony was attended by OECD Secretary-General Angel Gurria, who explained the importance and significance of the initiative.
In particular, Minister Park hosted the second session with the theme of "AI for SMEs" and led the discussions
On behalf of the public sector, Park Han-koo, Head of the Smart Manufacturing Innovation Promotion Group, introduced Korea's policy on the supply of artificial intelligence(AI) to small and medium-sized enterprises. In addition, POSCO, Kakao, and Telstar-Hommel each took part as representatives of Korea's large and small businesses in Korea and shared how to use AI for SMEs.
Minister Park also held a bilateral meeting with OECD Secretary-General Angel Gurria. During the meeting, Minister Park introduced the South Korean government's policy to support the digitalization of SMEs, including its smart manufacturing and innovation. Gurria thanked South Korea for its meaningful role in launching the D4SME initiative and urged Korea to continue to play a leading role in the OECD's discussions on the SME sector.
Minister Park replied, "Korea is a global digital powerhouse and the only member of the OECD that has an independent ministry in charge of SME policies; thus, we will enthusiastically play a role in the multilateral discussions on SME digitalization of OECD."
The OECD meeting with Minister Park shows the great potential for Korean SMEs to further advance into the world market.
Source: http://www.koreaittimes.com/news/articleView.html?idxno=94375