Advertisement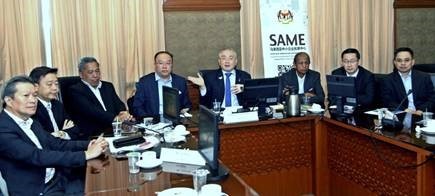 PUTRAJAYA: The government has approved RM107 million in loans to 588 small and medium enterprises (SMEs) through its Koperasi Jayadiri Malaysia (Kojadi) SME Loan Scheme since 2016.
Minister in the Prime Minister's Department Datuk Seri Dr Wee Ka Siong said Kojadi is expected to disburse RM50 million in loans this year to help the entrepreneurs to expand their business.
"This year, we are going to approve more applications and disburse at least RM50 million in loans, or maybe even more than that.
This is to further help the small and medium entrepreneurs who required funding from us," he told reporters after chairing Secretariat for Advancement of Malaysian Entrepreneurs (SAME) Advisory Board Meeting at Menara Usahawan, here.
Since 2016, Kojadi has received 1,751 applications for its loan scheme, 636 of which were approved.
The loan has benefitted small and medium scale entrepreneurs of various sectors which include general commerce, manufacturing and processing; business services and professionals; and building and constructions.
Meanwhile, among other matters discussed at the meeting included on the shortage of foreign workers and success of SAME's programmes.
"Some still rely on foreign workers especially those involved in dirty, dangerous and difficult jobs. Malaysians hardly have interest to work in this kind of field.
So the employers need the foreign workers to ensure that their business keeps growing and continue to have sustainable development,"he said.
"We hope this issues will be resolved once and for all," he said.
He said since 2014, SAME had conducted 110 programmes to guide and help SMEs and interacted with more than 40,000 entrepreneurs.
He said SAME has also set up a team to promote local products produced by villagers to China.
"We have a team going around new villages to collect products produced by the villagers and help them to sell the items to China. So far we have collected 40 products.
"In fact, there are buyers in China who will also help to promote these product ,and asked for more to add variety.
This had helped to increase the income of the villagers," he said.
Wee said SAME also offered Venture Capitalist programme to help those who has just started their SMEs business.
Wee said SAME also welcomed the recent announcement by the Prime Minister Datuk Seri Najib Razak on the waive of stamp duty on share of mid and small cap companies in Malaysia for three years, as well as the collaboration between Malaysia and Singapore to establish a market corridor connecting both countries with a trading link between their respective exchanges.
Source: https://www.nst.com.my/business/2018/02/333939/govt-approves-rm107-million-loans-588-smes-under-kojadi