Advertisement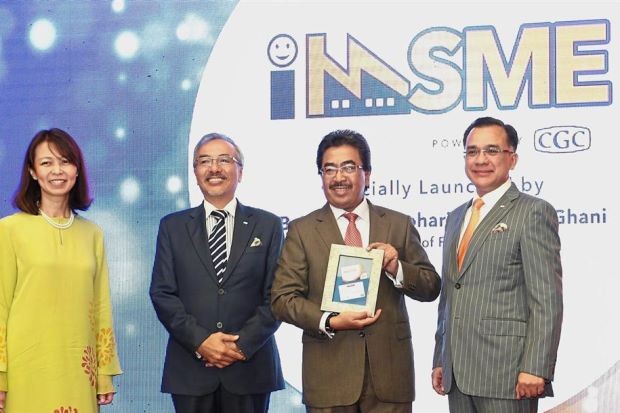 KUALA LUMPUR: Credit Guarantee Corp Malaysia Bhd (CGC) is targeting to approve RM4.9bil worth of financing to benefit about 9,000 small and medium enterprises (SMEs) this year, up 44% from 2017.
CGC president and chief executive officer Datuk Mohd Zamree Mohd Ishak said the growth will be underpinned by the solid, ongoing infrastructure projects in the country.
"We're confident of achieving this financing targets of RM4.9bil. We've been in it for over 45 years and we did fairly well last year – reaching out to 8,600 SMEs valued at RM3.4bil," he said at a press conference after the launch of CGC's imSME loan / financing referral platform, yesterday.
Mohd Zamree took note of major, ongoing projects such as the light rail transit (LRT), Petronas' Refinery and Petrochemical Integrated Development (Rapid) in Pengerang, the Pan-Borneo Highway, East Coast Rail Link (ECRL) and Kuala Lumpur-Singapore high-speed rail (HSR).
"We've been providing financing to contractors involved in the LRT, Rapid, well as Pan Borneo.
"We look forward to providing financing for the small and medium contractors for the ECRL and the HSR between KL and Singapore.
"Once that takes off, I'm sure there will be opportunities for not just the big boys but also the small contractors."
CGC's imSME platform is the country's first SME loan / financing referral platform. The event was officiated by Second Finance Minister Datuk Seri Johari Abdul Ghani, who projected that the Malaysian economy will grow as much as 6% this year on stronger fundamentals.
"Based on my estimates, it will grow between 5% and 6%. But the official forecast is between 5% and 5.5%," he said.
The country's GDP growth in 2017 is expected to be in the upper end of the official target of 5.2%-5.7%, or even exceed that following the first three consecutive quarters of impressive growth.
Meanwhile, CGC chairman Datuk Agil Natt said the imSME platform will serve as an online one-stop centre for SME loan / financing – by providing an array of financing products and services that are offered by participating banks and agencies.
"We know that SMEs play an important role in our economy and they contributed 36% of our GDP in 2016. By 2020, their contribution to our GDP is targeted to increase to 41%.
"However, access to capital and financing has always been the bane for SMEs, a factor that constrains their ability to grow and become more productive," Agil said.
He said imSME is a comprehensive site for information and financing application where small businesses can browse through an array of financial products and services in a fast, customer-friendly and hassle-free environment.
"The imSME platform was mooted by Bank Negara Malaysia and CGC was tasked to develop and implement this idea."
Agil added that since imSME's soft launch in November 2017, 321 SMEs had submitted their applications for the platform.
He said five were approved, valued at over RM500,000.
Source: https://www.thestar.com.my/business/business-news/2018/02/10/cgc-seeks-to-approve-rm49bil-loans-this-year/