Advertisement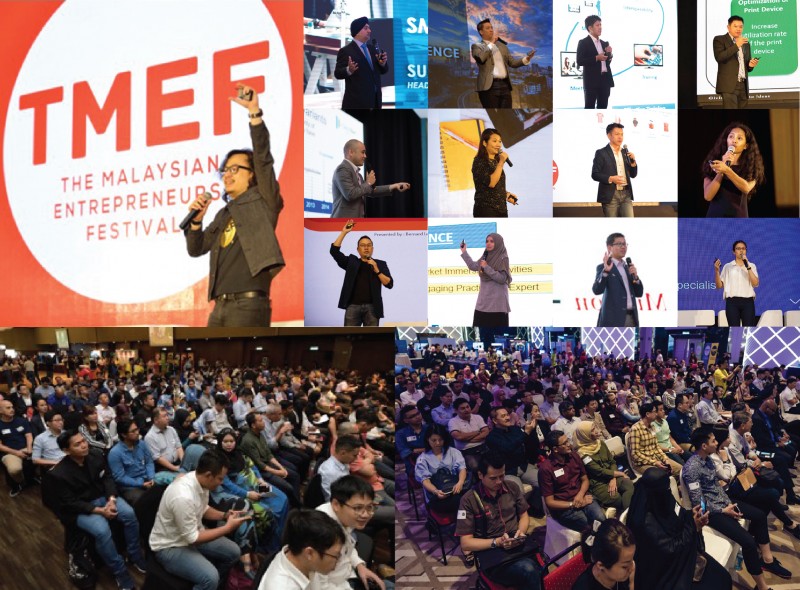 The entry and rise of digital transformation is galvanising more SMEs to go online, and for those who are already online, to bolster their services with added value solutions.
This was the take away from many speakers, sponsors and exhibitors at the series of The Malaysian Entrepreneurs Festival® (TMEF®) SME Tech Summit 2017 which took in Penang, Kuala Lumpur and Johor during the months from September to November 2017
The KL summit drew more than 2,000 business owners and entrepreneurs under the series theme "Navigating the New Normal: Digital Economy for SMEs", proudly endorsed by Ministry of Tourism Malaysia, Kementerian Belia dan Sukan, KPDNKK and Surahanjaya Syarikat Malaysia, SME Corp Malaysia, as well as Iskandar Malaysia; It featured speakers from Celcom, Konica Minolta, Cisco, Panasonic, Shopee, SSM, Google Cloud, Exabytes, Shopee and 11Street; as well as the SME solutions partners in the field, such like MYNIC, ZTE and Grab. Each of them carrying different business solutions, ranging from the smart mobile and transport solutions that could ease the SMEs' basic logistic and communication needs, to useful regulations and know-hows for the SMEs to establish the online network and business platforms, as well as the important insights for the SMEs to digitalise their business operation process, just to name a few.
TMEF® founder president Ng Eng Heng kicked off the event series with a dire warning to the local SMEs still resisting moving online or into digital solutions: "SMEs need to adapt or die." He said these changes will give SMEs the leverage they need to remain competitive in their respective industries.
"Today, entrepreneurs and business owners have the opportunity to learn how survive and adapt in the digital world so your business does not get wiped out by technology, boost operational efficiencies with digitalised office automation and integrated communication system, reinvent your business using cloud technology, go digital and embrace the Internet of Things (IoT), how to stay protected from cyberattacks, and obtain a unique brand identity and have the trustworthy ecosystem in the internet," Ng said.
Surinderdeep Singh Mohindar Singh, Head of Enterprise Business and Solutions, Celcom, spoke to SMEs on how "Telecommunication Makes SMEs Better", elaborating how Celcom's dedications in helping the SMEs.
"Celcom has been working for a few years with TMEF®. It is a great platform that continues to grow: this year's edition has drawn much larger crowds than the previous years, it is the largest. "I like TMEF®'s growth trajectory, it not only helps me to get new business, but also gives me a chance to reconnect with some existing customers and tell them what's going on in the industry. Today we have seen interest in our efficient voice plans, IoT offerings, while our cloud solutions have been attracting business owners," Surindeerdeep said.
Celcom Head of Small Medium Business (SMB) Dato' Kenneth Lee elaborated further during his session which was titled: "Will Tech Wipe Your Business Out? Survive, Adapt, Win by Celcom."
He continued: "I think customers have realised that change is coming quickly. Finally, we are seeing SMEs focus more on digital security for their businesses." Dato' Ken noted that SMEs are looking for solutions to help them reduce costs, particularly in the back office such as finance, payroll, stock management, and accounting systems. Even though ERP software is scaling down, there is still a gap where Celcom can come and fill that need," he enthused.
Konica Minolta Business Development Manager Lee Soon Hoe, who expounded on "Digital Transformation to Stay Competitive and Efficient". He said that most importantly, is that customers are aware of the technologies available in the market, but now they need to understand how to adopt these technologies in their environments.
"Most SMEs approaching us at TMEF® have shared their problems with us, and then Konica Minolta will come up with dynamic solutions to address their challenges and needs. The business owners here generally want to improve their business processes.
"Eighty percent of our customers in Malaysia and worldwide are SMEs, and Konica Minolta is adept at creating customised solutions to improve business processes for different SMEs across different industries," Lee said.
Chan Poh Siang, Sales Manager from Cisco Malaysia, who elaborated on the cybersecurity theme at his session titled: "Keep Your Network Safe Online".
"I congratulate the organisers for such a great event. Coming from an IT company which always talk about networking and connecting processes and data, I can see that this platform successfully brings SMEs to collaborate and network together.
"TMEF's catchy tagline 'We don't just do business, we celebrate business' is apt. Hats off to the organisers," Chan said.
Panasonic System Solution Advisor and Manager (Solution Marketing and Planning) Shota (Shaun) Sato then spoke on "Adopting The Future of IoT", on how the company's solutions leverage cloud and connected devices better spur SMEs forward.
"It is not easy to bring SMEs and partners together to collaborate, but TMEF has managed to do it. We have seen that more business owners are looking at security and communication solutions, bolstered by a mobile workforce and distant offices." Shota mentioned.
"Panasonic has catered to the SME segment for over 20 years now, and we are happy to be part of the bigger picture," he added.
Suruhanjaya Syarikat Malaysia (SSM) Head of Marketing Unit (Marketing and Business Development Division) Azleen Azmee then outlined how to "Be A Trustworthy Online Business", coaching SMEs and small online businesses on how to get registered online and how to get a leg-up with the agency's digital accreditation seal, BizTrust.
"Currently, we are seeing high demand for BizTrust, a digital accreditation seal that SMEs can put on their website, Instagram or Facebook. It is geared particularly to online businesses, and provides customers or vendors who visit websites a degree of trust and confidence in doing business with SMEs," Azleen said.
The DFTZ and entry of Alibaba has galvanised SMEs to distinguish themselves from the competition, she added, via SSM's BizTrust seal and other similar products. "Throughout the years, the Ministry of Domestic Trade, Co-Operatives and Consumerism has seen an increase in the number of complaints about online buying. Now with Malaysia kickstarting DFTZ and the e-commerce industry ballooning, we want to address the trust factor before it gets too big. People want to deal with businesses they can trust," Azleen noted.
Shopee Entrepreneur-in-residence and Business Development Zed Li spoke about "eCommerce: Emerging Threats and Opportunities for SMEs", where he noted how local entrepreneurs can distinguish themselves from bigger foreign players online via customer service add-ons.
"TMEF® has drawn a good audience, most of the participants here are serious business people. They are here to actually grow their business, not to look-see only. SMEs here are across the board: some provide services, some have their own brands, and others are starting their own businesses.
"TMEF® is a great platform to aggregate and bring together all these SMEs, and TMEF has managed to gather a strong pool of serious SMEs -- which are businesses Shopee wants to connect to as well. So it is a big benefit for us," Li remarked.
Another insightful sharing in the topic of "Reinventing Your Business" presented by Google Cloud Territory Lead Lee Shin Mei. She noted that Google Cloud allows SMEs and entrepreneurs to park and connect separate apps and solutions for marketing, payroll, finance, and other aspects of the business on what platform.
11street Senior Manager (Seller Management and Advertising) Bernard Lee shared on "How to Leverage Digital Commerce for Business Today" and how the online marketplace helps entrepreneurs take the first step to selling online.
"We not only provide the platform, but also the education via our 11street Academy because we believe to be a good online seller you need a strong foundation. In the Tech Summit editions I have participated in, I have seen more interest from SMEs in the academy and 11street. I took part last year as well, and this year's crowd is much bigger with a bigger uptake.
"TMEF did a great job of gathering entrepreneurs and sharing trends and insights on how they can grow their business or take the first step to entrepreneurship. I think TMEF is a good platform for entrepreneurs to network, learn and execute their business strategies," he said.
Exabytes Network Sdn Bhd Digital Marketing Specialist Charis Low Cai Yi then explained the "Top 10 Don't in Digital Marketing You Would Wish to Avoid", and how SMEs can better measure the bang for their buck on online advertising and marketing dollars.
She remarked that more SMEs are now being pushed to digital marketing services and online facilities and infrastructure that make it more convenient for them to be online.
"With the urgency of DFTZ and the digital economy gaining steam, we see more SMEs looking at digital marketing efforts. TMEF acts as a brand exposure for us, and works as a platform for us to educate business owners on how they can leverage the power of digital marketing," Charis added.
SMEs are an integral part of the country's economy, and the idea behind the event was to help SMEs achieve better growth and success in their businesses. TMEF® SME Tech Summit 2017 had also received tremendous support from the solutions providers in the field, to give the best business solutions to ease the business concerns from all aspects.
ZTE as the Official Business Phone of the event was also pleased with the outcome of the series of SME Tech Summit, with ZTE (Malaysia) Corporation Sdn Bhd product marketing executive Willy Tong noting that business owners have been asking about the smartphone offerings, such as the flagship Axon 7 model.
"Some are also interested in our infrastructure business. Events like TMEF are great for us to raise awareness about ZTE among potential enterprise customers," he said.
myNIC Bhd Manager (Corporate and Government) Norziba Fazlina Abdul Ghani, said many SMEs at TMEF Tech Summit KL are excited about myNIC's go2 product, which was only recently launched on Oct 10.
"Go2 is a shortcut communication platform, business owners and entrepreneurs do not need to give customers their handphone numbers, just their domain names. Once customers click the domain name, it will take them straight to WhatsApp and reduces the hassle of keying in or remembering contacts.
"Many SMEs that run online businesses through Facebook and sell F&B, retail and baby products are interested in go2," she remarked.
The Event Highlight - #TMEF360 gave 13 SMEs to shine the lights on their business on stage in front of their fellow peers and showcased just what their company is like about within a total of 6 minutes (360 seconds). It gave the chance to the SMEs to share about their amazing business, products and services and showed just how awesome their companies really are. It was the best show of the events from the SMEs!
The photo contest and digital lucky draw is proudly brought to the SMEs by TMEF® in partnership with our official Business Phone Sponsor, ZTE, this was an exciting moment for the SMEs to walk away with the exclusive ZTE Axon 7!
Click here to view our gallery: http://www.tmef.com.my/gallery.php