Advertisement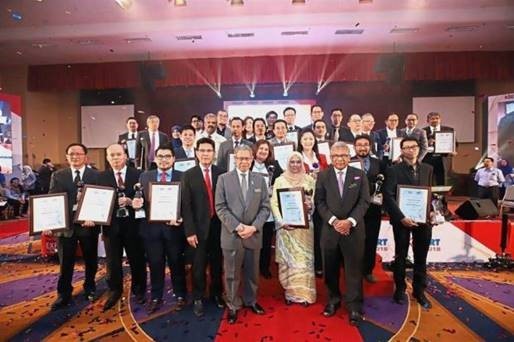 TRADE promotion organisation, Malaysia External Trade Development Corporation (Matrade), celebrated the contributions of Malaysian exporters during its Export Day 2018.
The first of Matrade's 25th anniversary events, the celebration was held to mark the exceptional trade performance reported for Malaysia in the first 11 months of 2017, of which the total value of trade, exports, imports and trade balance surpassed the whole performance of 2016.
Held at Menara Matrade in Kuala Lumpur, the theme was "Celebrating 25 Years of Export Excellence".
In the first eleven months of 2017, Malaysia's total trade amounted to RM1.622tril and grew by 20.8% compared with the same period of 2016. Exports totalled RM856.05bil, surging 20.4% while imports stood at RM766.07bil, up by 21.2%.
Export Day 2018 was also organised to inform local companies of the latest export opportunities around the world, strategies to win global market demands, current issues in international trade, Matrade's services to Malaysian companies as well as its programmes this year.
Export Day 2018, which kick-started the list of planned activities for Matrade's Silver Jubilee celebration, was launched by International Trade and Industry Minister Datuk Seri Mustapa Mohamed who was accompanied by Matrade chief executive officer Dr Mohd Shahreen Zainooreen Madros.
"Matrade was established in 1993 with the purpose of helping Malaysian companies venture abroad by providing a wide array of facilitations.
"Today, we have seen the result as the nation continues to enjoy an exponential trade growth year-by-year, driven by not only commodity but high-value sectors too.
"Moving forward, Matrade will continue engaging with industry players among SMEs, MTCs, women and youth entrepreneurs, to identify the next world champion in export," said Mustapa.
The event was attended by more than 1,000 participants from small and medium enterprises (SMEs), mid-tier companies (MTCs), large companies, multinational companies, government-linked companies, start-ups, venture capitalists, government agencies and business students.
There were panel sessions by speakers from prominent exporting companies who shared their experiences in export and how they embraced the global challenges to remain competitive in the international arena.
Outstanding Malaysian companies which have excelled overseas were also awarded the Matrade Export Award (MEA), which was introduced to encourage more Malaysian companies to go beyond borders and embark on exporting. Thirty winners were selected under 10 categories.
Programmes to boost Malaysian companies' capability and market access around the world were also announced.
"Matrade's work programmes are to ensure Malaysian companies not only obtain market access, but the necessary knowledge and export skills to succeed abroad.
"Through the programmes, we have been able to link them with potential foreign buyers and partners.
"Our Exporters Development Programmes are also being executed to provide customised facilitations to Malaysian exporters," said Mohd Shahreen.
Complementing the agenda was the Industry Communication Session where there were more than 50 information counters by various agencies, local media houses and the Sector and Market Desks.
The session allowed Malaysian businesses to reach out to various parties that were relevant to their needs.
Source: https://www.thestar.com.my/metro/metro-news/2018/02/03/msian-exporters-on-the-right-course-matrade-celebrates-their-positive-growth-as-part-of-its-silver-j/