Advertisement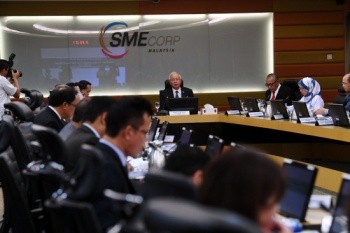 KUALA LUMPUR: Datuk Seri Najib Abdul Razak has launched the SME Central Incentives System (SCenIc), an online initiative, which serves as a database centre for recipients of aid under the Small and Medium Enterprise (SME) development programmes implemented by various ministries and government agencies.
Developed by SME Corp Malaysia, the Prime Minister said SCenIc is an important reference to avoid overlapping of and optimise resources.
"Through this initiative, I hope every ministry and agency can avoid duplication of assistance to SMEs and ensure more optimal allocation of resources," he said when chairing the 23rd National Small and Medium Enterprise Development Council meeting here today, before launching the initiative.
The council meeting was attended by 16 ministers and deputy ministers responsible for SME development.
Meanwhile, SME Corp Malaysia, in a statement, said SCenIc was launched to enable the government to improve the transparency of reporting and coordinating programmes involving SMEs.
"In 2015, there were 907,065 SMEs, which accounted for 98.5% of total business entities, with an average growth rate of 7.3%, surpassing the 6% growth target set under the SME Masterplan," it said.
SME Corp said overall, the SME sector performed better than expected, based on output and manpower, covering all industries in 2015.
In terms of gross domestic product (GDP) growth, the SME sector's performance rose 5.2% in 2016 in line with the overall GDP growth of 4.2%.
The SME sector also contributed 36.6% (2015: 36.3%) to overall GDP in 2016 with a value of RM405.5 billion (2015: RM385.6 billion), it said, adding that exports of SME goods and services recorded RM154.6 billion with a growth of 6.6% in 2016.
On another note, SME Corp said in an effort to provide online information on entrepreneurship to SMEs, SME Corp and SME Bank were in partnership with Suhan Movies & Trading Sdn Bhd to produce the "Chor and Chah" mini drama series season two.
The serial featuring Saharul Ridzuwan, Ummi Nazeera and Ruhainies is the first Malaysian business encyclopaedia drama depicting the journey of a young entrepreneur in a challenging business world.
Various procedures and processes in business such as business registration, branding, packaging, marketing, financial assistance and other entrepreneurial aspects are highlighted through this drama for the benefit of entrepreneurs.
The first season of the drama was aired on Youtube (Chor & Chah) on Aug 1, 2017. — Bernama
Source: http://www.thesundaily.my/news/2017/11/29/pm-launches-scenic-integrated-database-assist-smes