Advertisement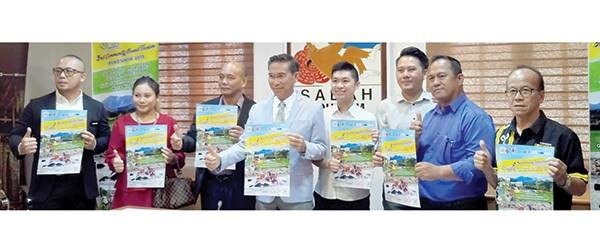 KOTA KINABALU: The State Rural Development Ministry (KPLB) will continue to produce more successful and competitive rural entrepreneurs.
Its Minister, Datuk Ewon Benedick said so far 61 rural entrepreneurs under the KPLB Sabah Entrepreneurial Leadership Programme have successfully set up businesses and have their own products of handicraft, food, cosmetics, health and honey bee products.
He said out of the number, four entrepreneurs are working on abalone-based coconut oil and cosmetics products which have hit the international market.
"It is not easy to advertise, promote and lift a brand new product, especially cosmetic products because they have to compete with other products in the market.
"Also for the handicraft and food products developed by KPLB Sabah entrepreneurs. But I believes with the commitment and initiative to develop the business and the ongoing support of KPLB Sabah, rural entrepreneurs will also create a name in line with other existing entrepreneurs in the country.
He said this when officiating the closing of the Entrepreneurial Business Management Enhancement Course under the guide of KPLB Sabah held at a hotel, here, Thursday.
Ewon, who is a Kadamaian, Assemblyman said the government through the various ministries and agencies, namely are Amanah Ikhtiar Malaysia (AIM), Business Group Economic Fund (TEKUN), Small and Medium Enterprises Bank (SME Bank) and Agrobank Malaysia also to provide financial loans assistance to start or expand business to the entrepreneurs.
"Rural entrepreneurs should seize the opportunity to further develop their businesses.
He said for KPLB Sabah, the ministry had five Village Entrepreneurship Centre (PKD) in Kudat, Pitas, Matunggong, Beluran and Keningau.
"In addition, we have identified several areas to build PKD buildings, including Kota Belud and Lahad Datu.
Meanwhile, Ewon said the course was aimed to increase the participants' knowledge in the field of entrepreneurship, including providing exposure on product markets, promotions, financial management methods and online business.
"I hope this course will continue in the future as it helps to enhance the entrepreneurial spirit in expanding their business potential," he said.
The three-day course from Nov 4-6 with 40 rural entrepreneurs working on a range of products, including food, handicrafts, cosmetics and homestays from all over Sabah.
Source: http://www.dailyexpress.com.my/news/142931/ministry-aims-to-produce-more-rural-traders/