Advertisement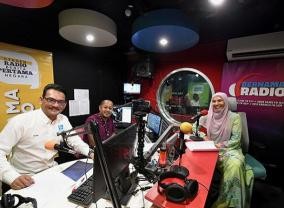 Bernama Radio, a radio station operated by the National News Agency of Malaysia (Bernama), has adopted a new concept that focuses on news and business from October 1.
Bernama Radio can be heard on FM93.9 (Kuala Lumpur), FM107.5 (Johor Bahru), FM100.9 (Kuching) and FM 107.9 (Kota Kinabalu).
The company's chief operating officer Azlan Idris said the station will get a fresh breath of business news, with a focus on Small and Medium-sized enterprises (SMEs).
Azlan said the number of large SME companies in Malaysia was a major factor in deciding the approach to focus on its audience.
"The reason we chose SMEs is because in Malaysia there are almost 900,000 SMEs (Small and Medium Enterprises) with almost 6 million employees. Of the 900,000 total SME companies, 400,000 are owned by Bumiputera traders," he said.
Azlan also hopes Bernama Radio's loyal listeners can respond well to the station's recent changes and content.
The initiative is also the beginning of a convergence process that will involve Bernama as a whole.
Source: http://www.asiaradiotoday.com/news/malaysia%E2%80%99s-bernama-radio-focus-business-news