Advertisement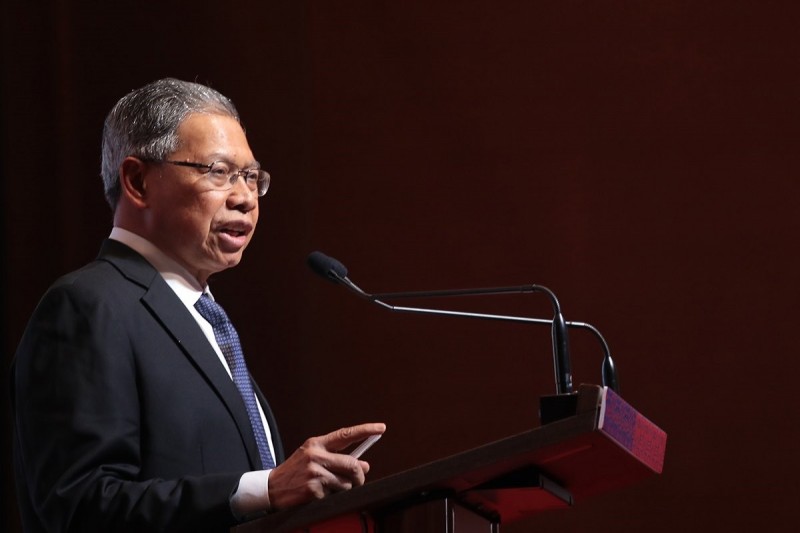 KUALA LUMPUR (July 23): Malaysia's economy, to some degree, has been bogged down with structural issues over the years, resulting in the country lagging behind its counterparts with similar characteristics, like Singapore, said Minister in the Prime Minister's Department Datuk Seri Mustapa Mohamed.
While the Covid-19 pandemic has been detrimental to the economy, it has also provided a window for Malaysia to address some of these issues and implement bold changes and radical reforms on many fronts, he added.
"Covid-19 has presented opportunities for us to reform on many fronts. Going forward, the government will address a number of issues in the long-term economic recovery plan," he said in his opening speech at the 2020 Malaysian Banking and Finance High Level Meeting and Virtual Conference here today.
"[This includes] addressing red tape and regulatory matters. According to the World Bank, businesses in Malaysia, for example, need 17 days to deal with procedures related to starting a business. In comparison, they only need 1.5 days in Singapore and Hong Kong and eight days in South Korea.
"The mismatch between labour demand and supply, unemployment of youth and fresh graduates, the low percentage of skilled workforce and our high reliance on low-skilled foreign workers are [also] contracting the Malaysian economy's ability to compete effectively," he said.
According to Mustapa, skilled workers in Malaysia make up less than a third of the country's working population — barely improving over the last 10 years.
He noted that in 2019, foreign workers accounted for between 10% and 32% of total employment in sectors such as agriculture, construction, manufacturing and services.
"Another critical issue to address is the low technology adoption among firms, especially the small and medium enterprises. The pandemic has exposed a number of vulnerabilities in the Malaysian economy. We now have a window of opportunity to implement radical reforms," he added.
Comparing Malaysia's economic growth with its regional peers, Mustapa said competition has particularly become more intense "in the last couple of decades", citing higher growth rates achieved by Vietnam, the Philippines and Indonesia compared with Malaysia's 4.3% last year.
In terms of economic-related rankings, he said Malaysia has a long way to catch up with Singapore, which has consistently been ranked in the top tier of three major rankings namely the IMD World Competitiveness Ranking 2020, the WEF Global Competitiveness Index and the World Bank Ease of Doing Business report 2020.
"I know some of us do not like to be compared to Singapore, [which is] a small city state. But there are many advantages to being small and hence it may not be an apple-to-apple comparison to Malaysia.
"Nevertheless, it is useful to observe the success factors of Singapore and explore what we can do to improve our rankings," he noted.
"The factors that have led to Singapore's success — stable government, high quality education, a dedication to meritocracy, business friendly policies, the focus on innovation, excellent soft and hard infrastructure, and a focus on high-end manufacturing and finance — are among the factors that have resulted in Singapore doing well.
"There is a lot of catching up to do. To maintain our position as the most competitive economy in Asean after Singapore, we have to buck up and get our act together," he added.
Source: https://www.theedgemarkets.com/article/covid19-has-provided-window-malaysia-address-some-structural-issues-economy-implement-bold