Advertisement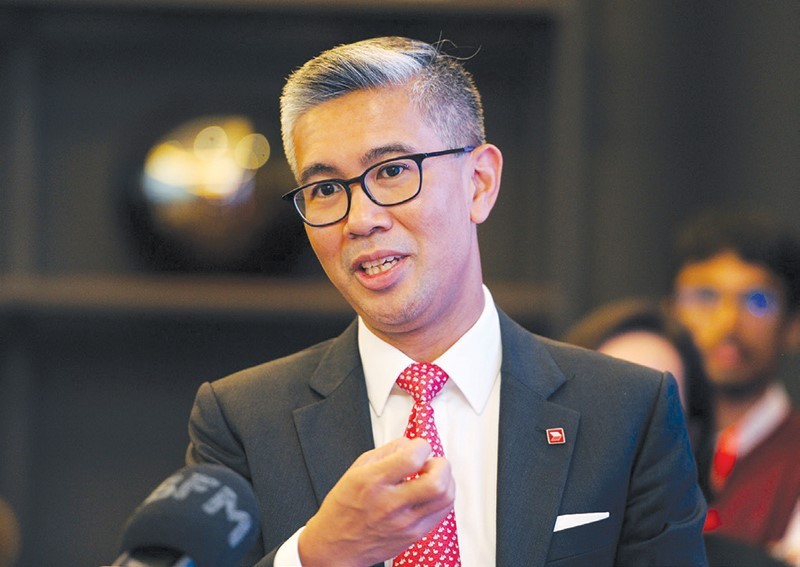 Image credit: The Malaysian Reserve
KUALA LUMPUR: The government via the National Entrepreneur Group Economic Fund (Tekun Nasional) has approved 38 applications worth RM302,000 for Tekun Business Recovery Scheme (TBRS) within four days of its launch on Monday.
Finance Minister Tengku Datuk Seri Zafrul Abdul Aziz said Tekun Nasional had received a total of 894 applications for micro-small and medium enterprises (SMEs) worth RM8.7 million for the scheme.
TBRS, which is part the National Economic Recovery Plan (PENJANA), aims to assist micro SMEs affected by the Covid-19 pandemic and to boost the country's economy.
"The scheme offers micro financing up to RM10,000 with a 3.5 per cent interest rate per annum compared to the conventional rate between 4.0 per cent and 10 per cent.
"The financing will help micro entrepreneurs recover their business and each financing will be given a moratorium period of six months," he said at a press conference after visiting Tekun Nasional's headquarters here today.
Entrepreneur and Cooperative Development Ministry (Medac) via Tekun Nasional had allocated RM100 million for TBRS.
Medac estimated that 10,000 micro-entrepreneurs will benefit from TBRS scheme, since its application was opened on July 13.
Tengku Zafrul was hopeful that the scheme would reduce the impact of Covid-19 and Movement Control Order (MCO), especially felt by micro SMEs.
Besides financial assistance, Tengku Zafrul said entrepreneurs should be given guidance and advise to encourage them to succeed.
This is to ensure entrepreneurs can repay the loan, which in turn can be channeled back to fund to be used by other entrepreneurs.
"SMEs and micro businesses are the backbone of the country's economy with a 40 per cent contribution to the gross domestic product (GDP) and generate more than 70 per cent of domestic employment.
"The government remains committed to providing assistance to SMEs in general and micro traders in particular," he said
Meanwhile, Tengku Zafrul said a total of 25,587 applications for Tekun Nasional's Covid-19 Business Recovery Financing Scheme (CBRM) had been received as of July 14, involving an allocation of RM195.3 million.
Since its launched on April 8, Tengku Zafrul said CBRM achieved 97 per cent of implementation rate from the total allocation of RM200 million provided by the government.
Three main recipients of assistance mainly from the services industry (52 per cent), retail (28 per cent), manufacturing (9.0 per cent), mostly benefiting entrepreneurs in Selangor (16 per cent), Johor (14 per cent) and Kelantan (12 per cent).
He said the government might need to review the policy for financing micro-SMEs including aspects for training support, support for advancing to the global level and the application of good business management practices.
He said a review of policies that could increase micro SMEs' access to financial financing may also need to be done.
"Financial financing is usually based on a borrower's credit profile or credit position.
"However, various innovations have been established in other countries in terms of assisting SME finance, such as e-loan platform, use of alternative data to determine credit eligibility, implementation of e-factoring and supply chain financing," he added.
CBRM is part of TEKUN Nasional's scheme under the Prihatin Rakyat Economic Stimulus Package that aims to assist 33,000 micro entrepreneurs affected by the Covid-19 pandemic.
Overall, the government had allocated a total of RM300 million through the Prihatin and the Short-term Economic Recovery Plan to Tekun Nasional to strengthen and stimulate the local economy.
With over 907,000 SMEs nationwide, 76.5 per cent or more than 693,000 are micro businesses.
In total, the government has allocated almost RM3.2 billion for micro SMEs comprising Prihatin Special Grant( RM2.1 billion), Bank Simpanan Nasional and Tekun (RM700 million) under Prihatin, and (RM400) million under Penjana.
Source: https://www.nst.com.my/business/2020/07/609146/govt-receives-38-approved-applications-tbrs-scheme