Advertisement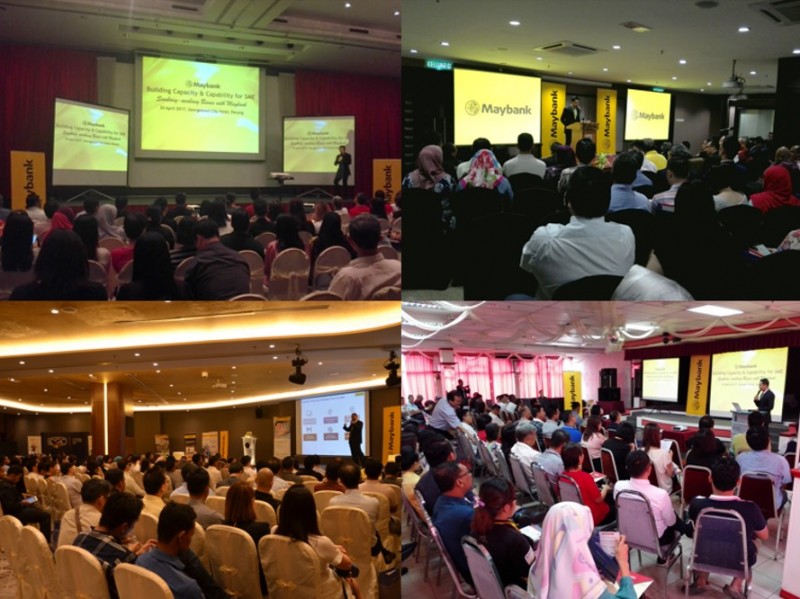 7 months and 15 whirlwind Sembang-Sembang sessions later, the Building Capital & Capability for SME 2017 event brought to the SMEs by Maybank and Duta® Events has finally drawn to a successful close. Maybank SME Banking organized a coffee talk session, called Sembang-Sembang Bisnes across 15 different regions in Malaysia.
Duta® Events and Maybank were proud to collaborate on the Sembang-Sembang Bisnes event series, a joint effort to increase the capability and capacity of SME businesses as they continue to strive to achieve better growth and success in their ventures. Maybank as the pioneer in SME banking solutions and Duta® Events, who has its passion in supporting the country's SME growth and has its nationwide SME network, together, their combined efforts successfully convinced the attending entrepreneurs that they could achieve all their business aspirations, and that they had a trusted partner to work with – Maybank SME Banking.
SMEs are an integral part of the country's economy, and the idea behind the event was to help SMEs achieve better growth and success in their businesses. Whether they were looking for property, looking to buy new machinery or even if they needed the working capital, Maybank and Duta® Events wanted to remind SMEs that they were there to serve their needs in exceptional ways.
With its primary focus being on educating and motivating SMEs to venture into the business field without fear or hesitation when it comes to financial aid, it was successfully achieved its goal of convincing entrepreneurs that they could achieve their business goals and dreams with the right – and more importantly, trusted – services provider like Maybank and SME business community supporter like Duta® Events.
Kicking off its grand launch in Malacca on the 29th of March, the event made waves in 15 different regions across Malaysia. The locations included Batu Pahat, Alor Setar, Penang, Taiping, Sitiawan, Setapak, Cheras, Kuala Terengganu, Kuantan, Tawau, Miri, Sibu, and Seremban before finally drawing to a close at its final destination in Puchong on the 31st of October.
Among some of the topics which were covered during the event included a session which provided SMEs with deeper insight into how they could stay relevant in their respective industries, detailed explanation on how they could expand both locally and globally, as well as a session that helped SMEs better understand what the available opportunities in Malaysia were which they could benefit from.
Some valuable sessions SMEs were involved in included:
Empowering SME by Maybank – Proudly presented by Maybank, this session was focused on how and what SMEs can do to achieve better growth and success in their business ventures. Both educational and motivational, this session helped inspire SMEs venture into the new business fields with confidence and aplomb, without the need to worry about financial aids, thanks to the one-stop-shop concept by Maybank as they aim to serve the SME community through their vast reach and coverage across Malaysia.
Financing & Guarantee Schemes by the Credit Guarantee Corporation (CGC) – During the event, the CGC took the opportunity to remind SMEs of the corporation's aims to help them, especially those who are without collateral and experiencing inadequate funding. The CGC highlighted their various products and services available, and how each of those would best be able to benefit an SME in need, so they could be well informed when the time came to make a choice.
Go-EX Programme by MARTRADE – Targeted at export ready companies, the Go-Ex programme organised by the Malaysia External Trade Development Corporation (MARTRADE) was designed and developed as part of the government's initiatives and efforts to help enhance the growth of exports produced by Malaysia's SMEs. The programmed addressed the challenges which were faced by SMEs when it came to new market entry.
Halal e-Commerce Marketplace to Fulfil Global Demand by AladdinStreet.com – With the aim to bring halal e-Commerce to the rest of the world, not just to meet but to also fulfil demand, the talk hosted by AladinStreet.com showed entrepreneurs that there was opportunity to gain halal certification and in doing so, gain access to 30 markets globally and more.
Social Media for SMEs – This session took an insightful look at how SMEs could leverage on today's social media tools to shed light and attract attention to their businesses. Facebook marketing has completely revolutionalised the way businesses are now able to market their products not just locally, but globally, thanks to social media's powerful reach, and SMEs gain valuable insight into how they could optimise these tools to their advantage.
At three engaging business talk sessions for each location, making it a total of 45 business talk sessions in all, SMEs walked away with precious tips and insights from the SME experts themselves about how they could position their business in the current competitive field.
Throughout the Sembang-Sembang Bisnes event, Maybank assured SMEs that with their expertise in delivering the best financial solutions for the SMEs, and Duta® Events with its initiatives in championing the worthy cause for the SME community, they would serve the SME community efficiently no matter where their business may be located in Malaysia.
Log onto http://www.dutaevents.com.my for more information and pictures of the event.