Advertisement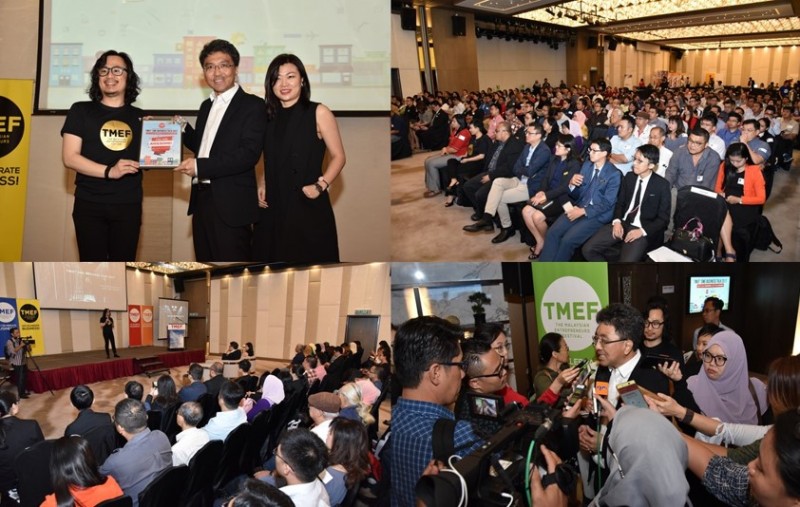 In the months of May and June, TMEF® organised the TMEF® SME Business Talk 2017: Let's Talk Business, Let's Talk Digital event held across East Malaysia covering Kota Kinabalu, Kuching, Sibu, Bintulu, Tawau and Sandakan, as well as Kuantan in East Coast region. The atmosphere was electric and energy levels were running high as the excitement was palpable from the entrepreneurs who are excited to be at the event.
It was clear that the air was thick with anticipation as SMEs waited eagerly to discover how the new age of digital technology was set to reshape how they operate their businesses. Digital technology is the future, and there is no sector that is going to remain untouched by this transformation. SMEs are under intense business pressure to remain competitive and to stay relevant in this fast-paced environment or risk being left behind as the world continues to surge forward into the new digital era.
The TMEF® SME Business Talk 2017 – East Malaysia kicked off with the grand openings respectively for both Sabah and Sarawak Editions. A warm opening address was delivered by the Guests of Honour, Yang Berhormat Datuk Seri Panglima Raymond Tan Shu Kiah, the Minister of Industrial Development of Sabah and Puan Rozaini Binti Mohamad Zahir, Head of Division of Capacity Development Department, Ministry Of Industrial and Entrepreneur Development, Trade & Investment Sarawak on behalf of Yang Berhormat Datuk Haji Mohd. Naroden Haji Majais, Assistant Minister of SME Development and Assistant Minister of E-commerce Sarawak; The event series was ended with its Finale in Sandakan, graced by a warm closing remark by Datuk Hashim Paijan, Permanent Secretary of Ministry of Industrial Development Sabah.
An enthusiastic keynote presentation by the Founder President of TMEF®, Ng Eng Heng, accompanied by a series of important business insights sharing by the sponsors, who are also the SME solutions providers, such as Digi, MDEC, Pos Malaysia, Maybank, Autocount, SSTC and the invited industry experts during the events, had highlighted the facts of how much technology landscape has grown and change, and how this has affected the way SMEs operate while pointing out how essential it was for SMEs to understand and apply digital solutions.
"Since early year 2000, when the internet became widespread, people had become more connected via digital technology. In this new digital era, SMEs should empower their own digital capabilities, in order to stay relevant with today's competitive market. To face digital transformation, SMEs can only adapt or die." said by Heng.
The TMEF® SME Business Talk 2017 – East Malaysia Edition shed light on essential insights of the business digitalization world and how SMEs could use that to their advantage and transform their businesses to prepare for the new era of business.
"All that can be very aptly themed "Let's Talk Business, Let's Talk Digital" can arrive at a very meaningful deliberations and conclusions of which the government can make use to formulate policies and programs to further accelerate and synergise the progress of SMEs in utilizing Internet's cutting edge technology. The first way to strengthen our enterprises, especially SMEs, is to help them adopt digital solutions; such as introducing digitalization courses like TMEF® SME Business Talk." YB Datuk Seri Panglima Raymond Tan said during his speech.
The success was continued with the extended series in Kuantan. The business talk had provided another opportunistic platform for the SMEs in East Coast Region to digitally empower themselves by gaining firsthand knowledge from the experts in the field. TMEF® SME Business Talk – Kuantan Edition that was recently held on 2 November 2017, had highlighted vital issues which changed the scenario in most of the traditional businesses that the majority Kuantan SMEs are in. It was proven to be an excellent example of how one cannot talk shop without using digital technology nowadays. The icing on the cake, TMEF® had brought the brand new platform for the Kuantan SMEs – the TMEF360. TMEF360 gave local SMEs who are game the chance to get up there on stage in front of their fellow peers and showcase just what their company is like about. TMEF® believes all SMEs have got some amazing business products and services, and TMEF360 was the platform that opened the chance to the SMEs to share their businesses with the rest of the industry and show just how awesome they really are.
TMEF® SME Business Talk event series supported SMEs to gain insights into the current digital outlook and discover for themselves which direction SMEs in Malaysia were heading towards, while at the same time gaining some invaluable tips on digital technology know-how, how to grow their business by going digital and how to transform and prepare themselves for the dawn of the new digital era.
Through this business talk series, SMEs learned how to make use of digital technology to connect businesses in all sectors and how to open up new digital processes which could help to ease the pressure faced by businesses as they grow towards the direction of the digital superhighway. Moreover, SMEs were given the chance to network and learn from the industry experts from the SME field as well as the potential business partners who may help boosting their businesses further. The networking sessions provided SMEs the chances to seek for business mentoring that can strengthen their core business strategy and produce better bottom-lines.