Advertisement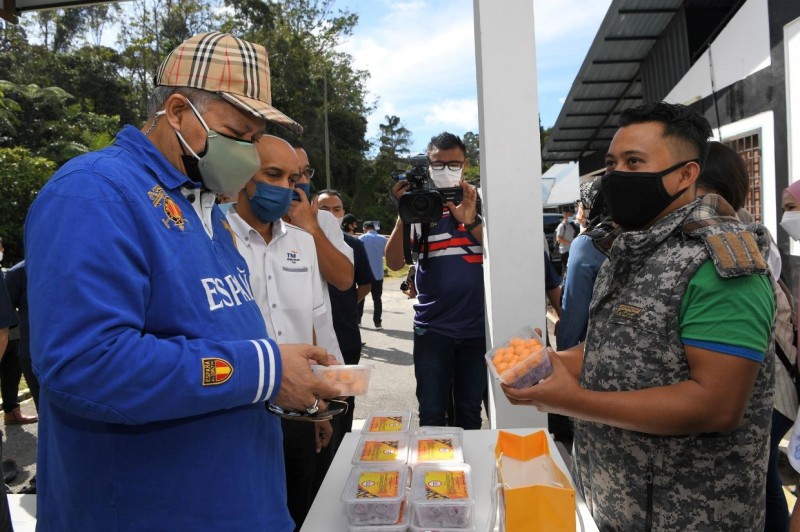 The Covid-19 pandemic which spread with alarming speed, brought economic activity to a near-standstill.
Small and medium enterprises (SMEs), which have been traditionally operating from their business premises, were among the worst hit due to the movement control order (MCO) to contain the outbreak.
However, there was light at the end of the Covid-19 tunnel for small traders in particular, when Community Internet Centres (PIKs) were set up nationwide by the government to help the rural people generate income.
Another ray of light is news that PIK will be transformed into Keluarga Malaysia (Malaysian Family) Digital Economy Centres (PEDi) to promote the digital economy among the rural population.
These small business owners, who have now set up an online presence as their marketing pitch through the various courses conducted at the PIK, share their digital marketing success stories with Bernama.
Normah Ketot, 55, a registered entrepreneur with Tanah Rata PIK here in Jan 2020, said that the PIK gave her business, which had to be shuttered due to the pandemic and the MCO, a new lease of life.
The owner of a bakery and homemade chocolates, who has been in the business since 2014, said the resulting travel restrictions saw a slump in tourist visits to Cameron Highlands, and brought businesses to a screeching halt for customers outside the highland.
"To hone my skills in online marketing, I attended an entrepreneurial training programme at this (Tanah Rata) PIK, thanks to the staff here; they have made the learning process easier.
"I leveraged on Facebook and Shopee and the website as my marketing niche to promote my products and connect with potential customers. They served to boost my business," she told Bernama at the Tanah Rata PIK recently.
Normah and several small business owners were here to meet the Communications and Multimedia minister Tan Sri Annuar Musa on a visit to the Tanah Rata PIK in conjunction with the Communications and Multimedia Ministry's (KKMM) Kembara Connectivity programme.
She said the social media platform, which was used as a marketing channel for her products, pushed her monthly sales to RM9,000, up from RM6,000 during pre-pandemic days.
Alternatives for business growth
An entrepreneur of sweet potato balls, Muhammad Rozeime Rohimin, 32, inherited the business from his mother who had been selling her food at the roadside and pasar malam around the highland.
"Since the onset of Covid-19 pandemic and the restrictions imposed under the MCO, I was forced to look for other alternatives to grow my business and the PIK was the best option for small entrepreneurs like me," he said.
Through the PIK, he attended online entrepreneurial training and marketing programmes, and as a result, his frozen food products are widely distributed throughout the country.
"I'm happy with PIK as it provides many facilities such as computers, stable and high-speed internet access as well as ICT trainers to guide us," he said.
Muhammad Rozeime, who currently uses about six tonnes of sweet potato monthly for his product compared to 100kg a month previously, is now conducting business online, with eight marketing agents under his supervision.
Nor Aishah Ismail, 35, who runs a bakery said, her monthly sales increased to RM2,000 through online marketing compared to RM500 previously.
She is confident that once the community internet centres are transformed into PEDi, traders will be able to tap the various facilities which have been provided to boost the digital economy for the rural populace.
Tanah Rata PIK
Some 5,000 people have benefitted from the various facilities provided at the Tanah Rata PIK, which was set up in 2018 at Kampung Taman Sedia here.
The KKMM will transform some of the existing 1,000 PIK nationwide into PEDi to promote the digital economy among the rural population.
Among the improvements to be emphasised under the transformation programme are the provision of equipment, internet access facilities at each premise as well as participation and the ability of the rural community to master the digital economy platform.
The Malaysian Communications and Multimedia Commission (MCMC) and the Malaysia Digital Economy Corp will coordinate the workflow and provide training in empowering the people's knowledge and ensure they utilise e-commerce as a window to market local products globally.
Speaking to reporters after visiting the Tanah Rata PIK, Annuar said every PEDi will have an administrative board or committee, community representatives, non-governmental organisations, and trade associations who will all work together as an administrative team so as to empower their rural community.
"This is important because the government does not want to be the only first-class infrastructure provider, with billions of ringgit spent through Jendela (National Digital Network Plan), only to see poor levels of use, involvement and mastery," he noted.
He said if in the past, many rural residents migrated to urban areas to get jobs or to do business, PEDi will now help them run businesses even from rural areas while still being able to venture into borderless foreign markets.
Construction of new telecommunication towers
Under the KKMM's Connectivity Expedition Programme involving Selangor, Pahang and Perak, Annuar also visited Sekolah Kebangsaan Telanok, located about 51km from Tanah Rata, home to Orang Asli settlements.
He also announced the construction of a new telecommunication tower in Cameron Highlands involving an allocation of RM120mil, whereby 90% of the Orang Asli Community will receive fibre broadband services by the end of next year.
Another telecommunication tower using fibre optics and satellite broadband technology will be constructed with an allocation of about RM50mil for the remaining 10% of the Orang Asli population in Cameron Highlands.
The government is targeting 97% of areas nationwide to have fourth generation broadband network coverage (4G) by the end of next year.
The government, through the Jendela initiative, has allocated almost RM4bil for infrastructure development so as to achieve the target.
The allocation includes 4G improvements in areas that are still getting 3G coverage, installation of fibre optics, and construction and upgrading of telecommunication towers nationwide, especially in rural areas and Orang Asli settlements.
Source: https://www.thestar.com.my/tech/tech-news/2021/10/21/small-enterprises-share-their-digital-marketing-success-stories