Advertisement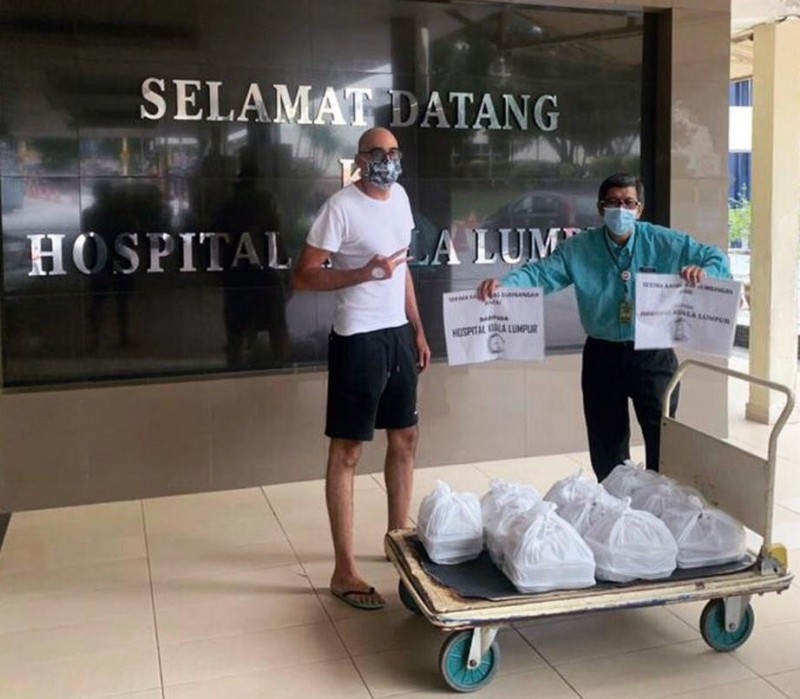 PETALING JAYA: When life gives you lemons, make lemonade. Though it is easier said than done, this is exactly what one man, Hans Gill, did with the "lemons" that came his way.
This 38-year-old entrepreneur is the proud owner of not only a restaurant called Tiki Taka, but a social media and marketing agency named Hans Media and his newest addition, a stall called Curbside Jalan Kasah.
With three businesses in tow, Hans recently told FMT that his motivation to succeed at all costs comes from his mother's strength and resilience to overcome any hurdle thrown in her path.
"My mother paid for my education but everything else was up to me", recalled Hans, noting that he started working at a young age in restaurants to earn his allowance.
His inspiration to open his own restaurant stemmed from his past F&B work experience while he was still studying. Naturally, it became a dream to run his own restaurant one day.
In June of 2016, he launched his dream with Tiki Taka, a captivating eatery in Medan Damansara known for its warm ambiance and wide array of small bites. Such is its appeal that Tiki Taka is now a three-time Tatler Malaysia award winner.
Hans promoted his restaurant all on his own by posting pictures and videos on social media. His creative efforts soon caught the attention of people, curious to learn more about his restaurant's marketing strategy.
Little did they know that Hans' social media marketing skills were developed from watching countless YouTube videos and online research. This led to the birth of Hans Media, a platform he used to share his views and thoughts on social media marketing.
"I wasn't even sure of what I was posting. I worried that if I spoke about it, people would call me out and correct me," he quipped.
To his surprise, many people supported his videos and some even tried out his tips and tricks.
Like many other restaurants, Tiki Taka has been barely surviving on takeaways due to the ongoing movement control order.
With staff salaries and other overheads to cover, Hans began to mull over his options to stay afloat and came up with a simple but effective idea last month while standing outside Tiki Taka.
"I thought to myself, why don't I just open a stall right here, outside Tiki Taka and start selling food?" And that's exactly how his third business – Curbside Jalan Kasah – came to be.
His rustic stall offers affordable nasi lemak ayam and chicken burgers, as Hans believes that cheap and delicious food will always bring people back for more.
Even so, being the sanguine personality that he is, Hans still wanted to do more for others during this difficult time.
Inspired by another charitable online initiative, Hans and his business partner David Gurupatham kickstarted Projek Satu Hati, a charitable initiative that helps people affected by the pandemic and the ensuing lockdowns.
Projek Satu Hati's goal is to not only bring aid to the less fortunate and frontliners, but to also help struggling businesses generate some income.
"I am suffering. So, I know what others are going through as well. In a way, Projek Satu Hati can kill two birds with one stone," shared Hans. The project's mechanism is quite simple.
All one has to do is purchase a meal from his restaurant and top it off with a donation. The accumulated donations will then be used to whip up more meals to be distributed as care packages to frontliners and the less fortunate.
Through this charitable initiative, Hans has been able to donate food from his stall to the police personnel manning various Klang Valley roadblocks, the Myanmar Ethnic Women Refugee Organisation, the Anjung Kelana transformation centre for the homeless and Hospital Kuala Lumpur frontliners.
While he hopes for brighter days ahead, he is happy to continue helping those who need it most and is looking forward to other kind Malaysians joining his life-giving initiative.
After all, what's the use of making lemonade if it is not to be shared with others?
Source: https://www.freemalaysiatoday.com/category/leisure/2021/07/22/hardworking-entrepreneur-helps-frontliners-and-less-fortunate/