Advertisement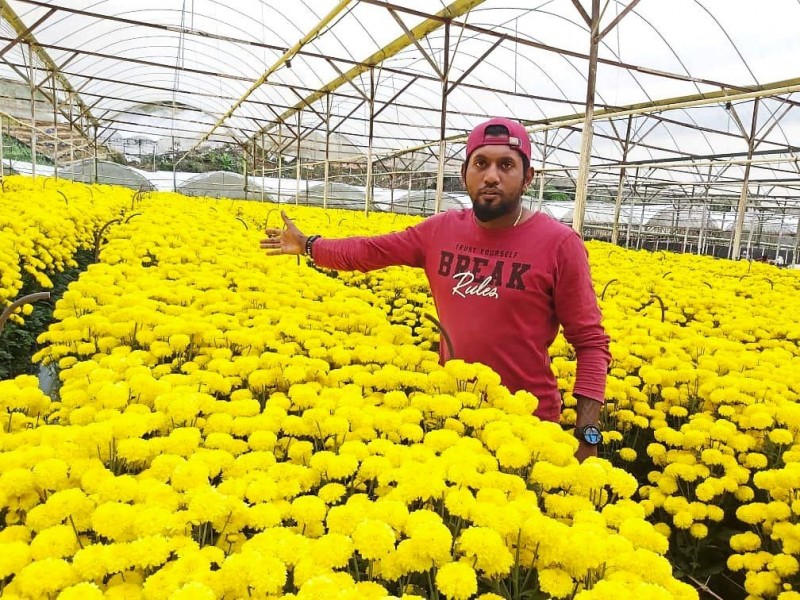 Religious leaders are urging the government to consider allowing fresh flower businesses to operate during the lockdown, as flowers are widely used in prayers.
The floral industry is not included in the list of essential services, under the International Trade and Industry Ministry (Miti).
Malaysia Hindu Sangam president Datuk RS Mohan Shan said flowers, especially tied in the form of garlands, were one of the main components and compulsory items for funeral rites and prayers, even if those were held at home.
Although temples are closed during the present movement control order period, he said daily prayers were conducted by priests as usual, which required flowers.
"Devotees also need flowers to pray at home, " he pointed out.
Mohan said he had written to the National Security Council to reconsider its decision and allow the floral industry to operate, just like food stall operators who sell nasi lemak and kuih, where customers are required to make purchases quickly and leave the premises immediately.
He also said that flower stall operators — who are small-time traders working for daily wages — were in dire straits without an income.
"Flower farmers in Cameron Highlands are forced to discard their harvests because of the lockdown, despite a big demand for fresh flowers.
"Many flower sellers are affected.
"I am sure something can be done to help these traders resume their business, with tight standard operating procedures in place and monitoring by the local authorities, " he said.
Buddhist Chief High Priest of Malaysia Datuk K. Sri Dhammaratana said Buddhist devotees also used flowers as offerings during prayers.
He said he was disheartened by the discarded flowers in Cameron Highlands and that it was a waste.
"Many people are in despair and rice bowls and relationships are affected because of this pandemic.
"So, many are turning to prayers for blessings and comfort.
"Devotees are praying at home because the temples are closed. Health and safety are the utmost priorities.
"It would be good if the flowers from Cameron Highlands could be sold to the end users safely, " he said.
Federation of Taoist Associations Malaysia president Tan Hoe Chieow said their devotees too used flowers as offerings during prayers, but this occurred only twice a month.
He said devotees would offer flowers and food to deities on the first day of the new moon day and on full moon day.
On other days, the flowers would be placed in temples to create a calm and fragrant ambience.
"Perhaps devotees who have gardens at home can make do with those, until the restriction on flower stall operations is lifted. Safety is important, " he said.
R. Nirmala Devi, 77, from Petaling Jaya, is among those disappointed with being unable to offer flowers during prayers.
She said her weekly routine included buying small garlands and 25 stalks of chrysanthemums that were turned into a big garland for prayers at home on Thursdays.
"Seeing my empty altar saddens me, so for now I use plastic flowers as a substitute. But I am not satisfied with this.
"Ironically, freshly cut flowers are being dumped in Cameron Highlands because the farmers cannot sell them during this period.
"As a person who loves gardening, I understand the pain of having to throw their harvest, which the farmers have cared for over months.
"The government needs to find a way to allow flower businesses to resume operations, " she said.
Supply running low
Funeral service providers say flowers are still available, but the quantity is limited and running low.
After the national lockdown from June 1 to 14 was announced, Nirvana Care Sdn Bhd — the funeral division of Nirvana Asia Group — stocked up on flowers.
Its general manager Teh Khai Lin said there were cold rooms at two of its three funeral parlours in the Klang Valley.
He said families were opting for funeral service at the parlours instead of at their homes for fear of having visitors to their house in this period, which minimised the need for flower decorations.
"We have flowers to last us another week, " he said, adding that the bereaved families had complained that it was difficult to buy flowers now.
S. Paramasaraphy, owner of Kuala Lumpur Funeral Services — which conducts Christian and Hindu funerals — said the company's clients were still able to purchase garlands from selected florists.
The news of farmers having to dump freshly cut flowers has drawn much flak from the public.
Some netizens have urged the farmers to adapt to current times by donating and diversifying to stop the flowers from going to waste.
Floralife Sdn Bhd director Edward Chang said Miti allowed online flower shops to operate but the supply chain was hampered at the source in Cameron Highlands.
Wholesalers like him were running low on stock, he said, adding that they struggled to meet the demand of online florists.
"There is still a grey area on how small-time online florists are to go about their business.
"We are allowed to operate, as we also sell vegetables.
"I want to help the farmers in Cameron Highlands, " said Chang.
"I am concerned about the sustainability of flower farmers in the country.
"This is the second time they are being forced to discard their harvest, due to the movement restrictions.
"If this continues, the flower farmers may opt to plant vegetables instead to sustain their business, and florists will have to rely on imports, which is a great concern, " he said.
Floristika.com.my Sdn Bhd digital marketing executive Aziah Azhar said they were still getting flower supplies from various local sources and overseas.
She said there was a surge in online orders since she migrated to only accepting online orders from June 1.
"We have a big cold room to store the flowers.
"Our stock is updated on our website twice a day, so our customers have almost real-time information on what is available.
"We don't see why it will stop customers from buying flowers for their celebrations or prayers.
"We believe customers can continue buying flowers without going physically to the shop, " she said.
Meanwhile, Cameron Highlands Indian Farmers Association secretary Parveen Kumar Mohan said the volume of flowers they dealt with was meant for the whole of peninsular Malaysia and there was only so much that could be donated to people and a few nearby temples.
"Lorries are not allowed to transport flowers out of the district.
"Some farmers tried selling on e-commerce sites but response was poor.
"There were also proposals asking us to make tea or potpourri.
"We do not have the space, time or skills to do it. Even if we do, it will add to our costs and who is going to buy the products?
"The farmers are already suffering losses, " he said.
Parveen said the farmers expressed their grievances about their investments in labour and costs going down the drain as well as their inability to cover their losses, and appealed to the government for help.
Source: https://www.thestar.com.my/metro/metro-news/2021/06/11/withering-business-desperate-for-help