Advertisement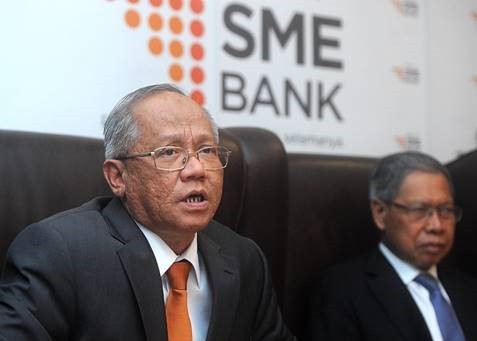 SME Development Bank Malaysia Bhd (SME Bank) aims to disburse RM2.9 billion of financing this year, helped by the better economic performance, ringgit's appreciation and improvements in the retail sector.
COO Datuk Razman Mohd Noor said the bank's financing is expected to pick up by the second quarter of 2018 (2Q18), as the ringgit strengthens and the rise of the local unit will benefit a majority of the small and medium-sized enterprises (SMEs).
"We considered last year's economic performance, and 2018 will be the period of recovery.
"Malaysia's SME portfolio is largely consisting of the retail segment, which was dragged by the poor ringgit performance in 2017. People had maintain their operation rather than expand their business.
"However, we foresee financing will pick up by 2Q18 if the ringgit continues to perform better," he said at the launch of "MySMEBank and the SME Bank Y-Biz Challenge 2018" in Kuala Lumpur yesterday.
Razman said last year, SME Bank approved RM2.3 billion worth of financing for the manufacturing, construction and services industry. The bank disbursed RM2.8 billion worth of financing including approvals given in 2016.
Meanwhile, Razman said the lender is enhancing its service delivery by deploying a digital platform — MySMEBank financing application.
He added that the online service is able to reduce as much as 41% of the processing and approving time.
"With the application, we will be able to cut the turnaround time to a mere 14 days of the total application process in disbursing the financing as it is now entirely online," he said.
However, he added that applications that do not meet the lender's requirements will be handled offline to allow applicants to improve on their companies' performance.
"As it is usual to receive unmet submission, noneligible applicants will be referred to our advisory and training arms, the Centre for Entrepreneur Development and Research and Entrepreneur Development Division," he said.
MySMEBank is integrated with the lender's real-time advisory service, "Book Your Banker", which allows applicants to directly communicate with the bank's personnel.
Razman said the lender is anticipating 70% of the financing applications in 2018 to be submitted through the system.
"We hope to raise the financing application through MySMEBank by 70% as this is just our first step into digitalisation.
"Moving forward, we plan to make the entire financing process paperless, from the submission to disbursement," Razman said.
Since it was introduced on Feb 2, 2018, MySMEBank has received 100 registrations and nine financing applications.
Source: https://themalaysianreserve.com/2018/02/14/sme-bank-aims-disburse-rm2-9b-financing-2018/