Advertisement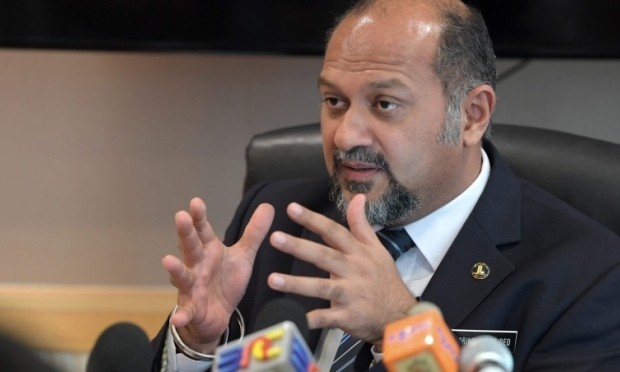 CYBERJAYA: Malaysia has the means to grow bigger in the creative industry with good talents and strong ecosystem, said Communications and Multimedia Minister Gobind Singh Deo today.
To further encourage the growth of the industry, he said he had held discussions with the Finance Ministry on the ministry's budget next year, including for portions for the creative industry.
"We just had a meeting before this event. One of the things we talk about is on how we can improve funding especially when it comes to creative industry, including animation.
"I am very committed to make sure we succeed (in the creative industry) . In order to succeed, we need to make sure that we have the funding; we have to make there's vibrant eco-system that's willing to go (further), willing to take the risk and willing to make a difference.
"If we put our heads together, we will make this work," he said at the Kre8tif! chat with the Communications and Multimedia Minister programme today.
The programme was hosted by Primeworks Studios chief executive officer Datuk Ahmad Izham Omar.
Kre8tif! is an initiative from Malaysia Digital Economy Corporation (MDEC,) an agency under the Ministry, with the mandate to develop the creative content industry in Malaysia.
Established in 2009, Kre8tif! 2019 carries the theme 'Moving to Mastery' representing the growth of the creative industry in Malaysia, evolving over time, starting from enthusiastic creatives and entrepreneurs, and now through discipline, hard work and skill building, are now gaining mastery as highly skilled professionals, still seeking to continuously improve onwards.
Gobind said things were done differently now under the new government. Instead of the people going to the ministry, he wanted the ministry to go down to the people and look at how it could assist and solve problems.
"Malaysia has it all. We have the talents and the products (in the creative industry). We want to go to where they are. Lets engage and talk to the people and take steps to get things moving."
Ahmad Izham also asked Gobind if Malaysia would one day be capable to be at par with Disney and Pixar, Gobind believed it could happen and that the country could do even better.
"We need to look at the micro and macro aspects of things. Malaysians are excellent in different areas and need to be put in the right ecosystem to compete with Disney (for instance)."
Malaysia's animation industry is placed at the global level with exports of RM132 million in 2017 to more than 120 countries.
On his advice to those who wanted to venture into the creative industry, Gobind said one should get over the first hurdle by knowing what were available to achieve their dreams.
He said the ministry also looked into the possibility of exploring tech tourism which could be another source of revenue for Malaysia.
source:https://www.nst.com.my/news/nation/2019/09/519371/gobind-sees-bright-future-malaysias-creative-industry