Advertisement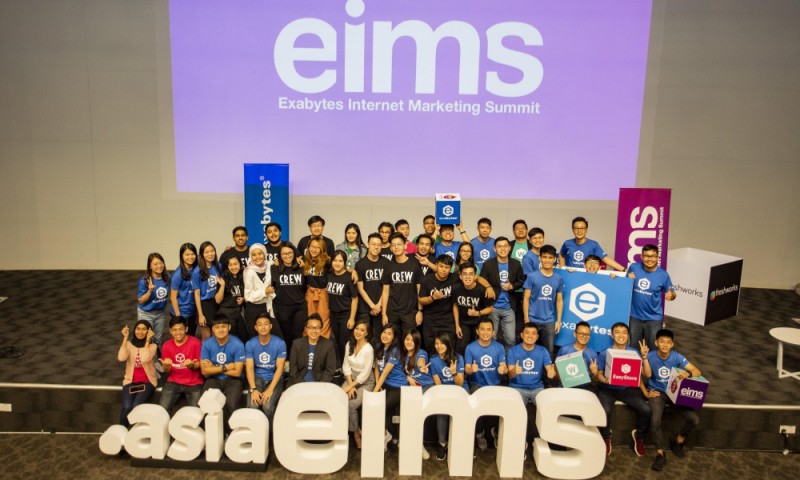 Exabytes Internet Marketing Summit 2019 has successfully brought together 1000+ of SMEs in Malaysia and 37 digital marketing gurus from the leading industry to learn and share the latest tech and information of digital marketing.
The theme of EIMS 2019 is 'Storytelling in the Digital World'. Storytelling is the fundamental human experience that unites people and drives stronger, deeper connections and it is a method to communicate, educate, share and connect. EIMS 2019 focuses on learning the different platforms and tools for brand storytelling.
In conjunction with the opening remark by Chan Kee Siak, CEO & Founder of Exabytes, he announced the partnership of Exabytes and freshworks – A ready-to-go and easy-to-use business software that offer great value to any kind of business.
"There're more tools and techniques that we need to learn and figure out, in order to stay innovative and remain outstanding in terms of digital marketing. Today, customers are more demanding and expecting a good service. Maintaining a good service level, managing the feedback and rating are equally important," said Chan, CEO & Founder of Exabytes.
He also said that there is always a limitation on human resources and the business should start implementing Artificial Intelligence (AI) or smart bot to help the business to filter up some works. So that the digital marketers can focus on running a successful and impactful marketing campaign, instead of managing the social media channel.
"I think that freshwork and Exabytes, we both have the same mission that is to help start-up & SMEs throughout the globe," said Abishek Murthy, Head - Product Marketing of Freshworks Inc
Therefore Exabytes is entering a strategic partnership with freshworks.
To deliver a meaningful and memorable learning experience, the organizer had arranged for three learning platforms/stages to run concurrently at the event, namely Digital conf, Workshop 1 and Workshop 2. On top of that, the organizer also arranged more area for networking. A strong and active business network has advantages that can make your business grow and flourish.
"It's exciting to see the enthusiasm among SMEs and entrepreneurs here in Malaysia on the rapid growth for intra-Asia trade supported by e-commerce," Edmon Chung, CEO of DotAsia Organisation said.
He also said that DotAsia is honored to have shared their thoughts on how the creative use of multiple domain names including the .Asia web extension and other new Top Level Domains can help SMEs build their online presence and digital brand identity for the immensely diverse consumer base of Asia.